1. Coverage
This web site availability Service Level Agreement (SLA) applies to you if ExiaHost.com ("ExiaHost", "our", "us", or "we") is providing Service to you and your account is in good standing. Terms not defined in this SLA have the meaning given to them in your agreement with ExiaHost.
2. Service Level
ExiaHost endeavors to have network connectivity available by HTTP access by third parties 99.9% of the time (Web Site Availability).
3. Credits
In the event that there is no Web Site Availability, ExiaHost will credit your account with the monthly Fee for the Service as calculated below and as measured 24 hours a day in a calendar month. The maximum credit will not exceed the monthly Fee for the month during which ExiaHost does not meet the Web Site Availability: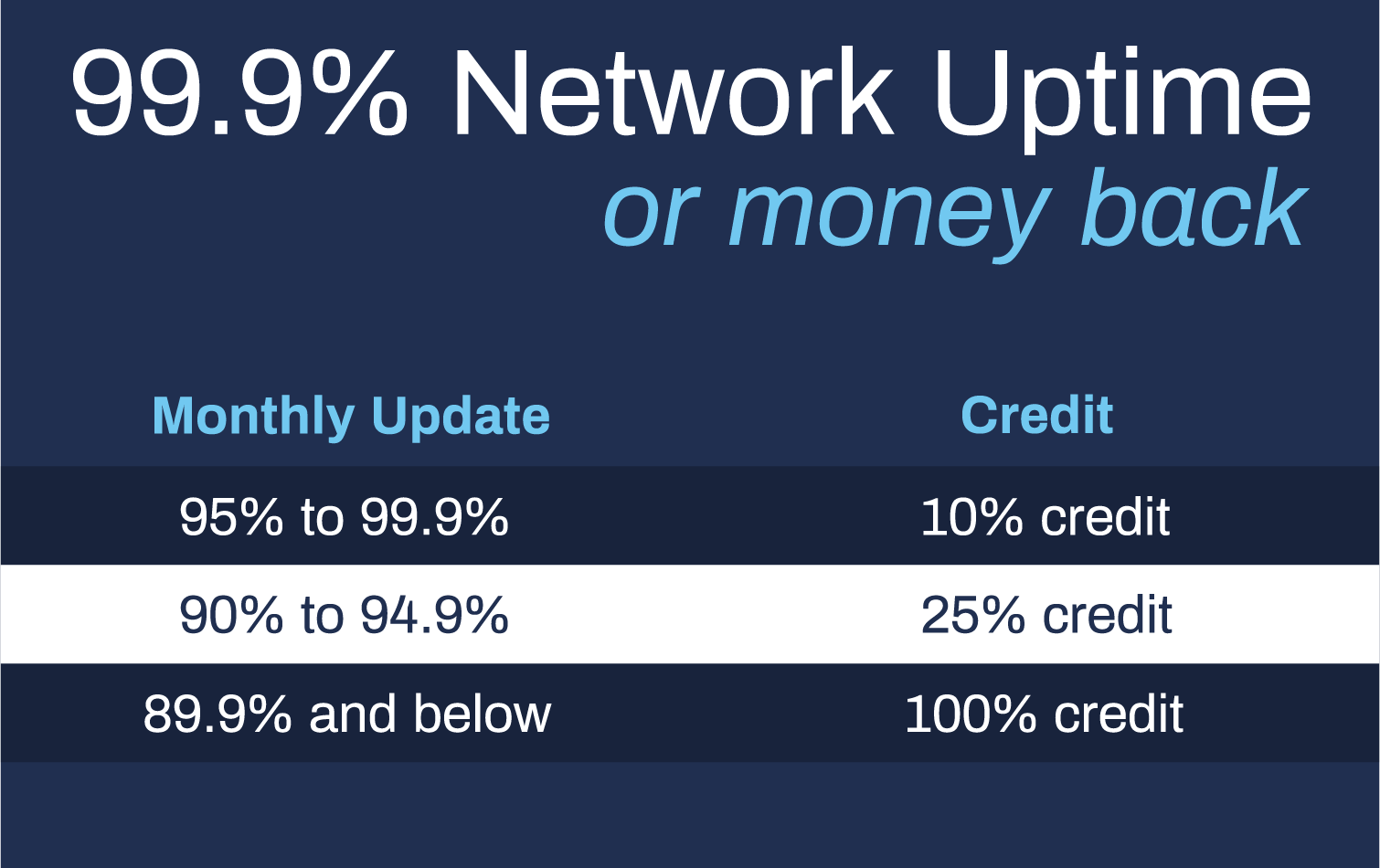 In order for you to receive a credit, you must request the credit within seven business days after you experienced Web Site Unavailability. Web Site Unavailability means: your web site is not responding to HTTP requests, or unavailable via the HTTP protocol. You request credit by sending a request to our billing department through our helpdesk (accounting@exiahost.com). The message must originate from the primary email we have in our records for you, and contain your domain name, the dates and times of the unavailability of your web site, and any other customer identification requested by ExiaHost. Credits will typically be applied to your account within sixty days of your credit request. This credit is your sole and exclusive remedy for our failure to meet the Web Site Availability SLA. The statistics generated by our internal monitoring services are the final determination of the uptime of our service, and not any one client's experience.
4. Restrictions
Credits will not be provided to you in the event that you have no Web Site Availability because of: (i) scheduled maintenance, (ii) your behavior or the performance or failure of your equipment, programs or applications, or (iii) circumstances beyond ExiaHost's reasonable control, including, without limitation, acts of any governmental body, war, insurrection, sabotage, embargo, fire, flood, strike or other labor disturbance, interruption of or delay in transportation, DDoS attacks (distributed denial-of-service), unavailability of interruption or delay in telecommunications or third party services (including DNS propagation), failure of third party software or hardware or inability to obtain raw materials, supplies, or power used in or equipment needed for the Services.
5. Shared Hosting Backups
ExiaHost performs backups daily and stores one daily backup on a remote storage system (utilizing Amazon S3). This data is encrypted at rest to prevent unauthorized access. ExiaHost performs these backups primarily as a disaster recovery mechanism in the event of catastrophic failures. ExiaHost is not responsible for lost data, time, income, or any other resource due to faulty or non-existent backups. We strongly recommend that you save copies of your own backups for redundancy. We provide up to three (3) free backup restorations from our own backup servers per calendar month. Please note that we do not store backups indefinitely. Upon request, we will provide the copies of the backups that we have available to us. We are not responsible for the data integrity of the backups themselves. If you exceed the allowed free backup restorations, there will be a $10.00 charge per backup restoration request. This charge will not be applied in the event that a backup restoration is required for an error beyond our control. If you wish to provide your own backup file to restore, we will restore using your own backup free of charge - this will not count against your three backup restorations per month. If your account or data is lost due to hardware issues, we will restore your files at no additional charge. We cannot ensure 100% recovery, but we will do our best to recover everything we can. The modest charge for backup restoration provides a measure of security for you and compensates us for the time it takes to restore your files.
6. Backups for other Serivces
Unless otherwise stated, we do not perform backups for services other than our shared hosting plans. It is your responsibility to ensure that account backups are taken and saved to protect against data loss. We provide backup solutions as well if you would like to use a backup destination that is managed by ExiaHost.
7. Response Time SLA
ExiaHost.com does not offer, nor advertise, 24/7 support for clients. Our normal ticket response hours are between 9 AM EST and 10 PM EST. Any responses received before or after these times are not typically standard and should not be expected. There are times where a technical issue may require an extended period of time to resolve. You agree that you will not hold us liable for any potential downtime that may be caused due to this issue. You also agree that you will not hold us liable for any potential lost income due to the possible downtime caused by the issue. We will work with our best reasonable efforts to resolve any issue in a timely manner, however, there may be times where downtime is out of our control (such as with hardware failure).